Jamaican Government putting a stop to Lewd and Violent Music
Written by: gop | posted: Feb 1, 2009 - 12:00:00 AM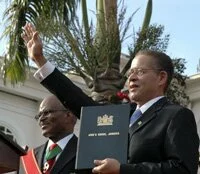 Prime Minister of Jamaica, Bruce Golding, is putting an end to lewd and violent music in Jamaica
The Jamaican Government has taken a stance against lewd and violent music. Prime Minister Bruce Golding is willing to go to parliament to make changes to any law so as to clean up 
the Jamaican society.

"We are going to find a way to deal with the nastiness that is out there. And if it is some law that needs to be changed, let us prepare the legislation and go to Parliament and change it. If it is some resources that we have to find then, as tough as things are, make 
us find it, because we cannot afford to allow this assault not only on our music, but on our psyche and our identity as a people, to continue."

The Prime Minister has let it known he is not against artistic expression, provided it is not detrimental to the society.

"We must set some parameters and we must be prepared to ostracize those who step beyond the 
boundaries of what is descent and uplifting. Freedom of expression must be used to do good, to do right, to uplift, to inspire and to make Jamaica a better place."

This is a positive move by the Jamaican Government which should be emulated by other Caribbean states, which will therefore dampen the demand for this type of music and therefore the supply.

Caribbean people for the most part have been disgusted by the playing of lewd and violent music in public areas, and on public service vehicles. As life in these states have apparently mirrored the artistic somewhat.