Grantley Adams International Airport Terminal Pyramids
It is thought that the Egyptians positioned their pyramids so as to reflect the positions of some stars or constellations. This has to do with ancient religious beliefs. They believed that as above, so below. Heaven is a reflection of Earth, and vice versa. A pyramid is thought to be a kind of stairway to heaven for the deceased pharoah.
Written by: gop | posted: Tuesday, Jun 21, 2011 - 12:00:00 AM EST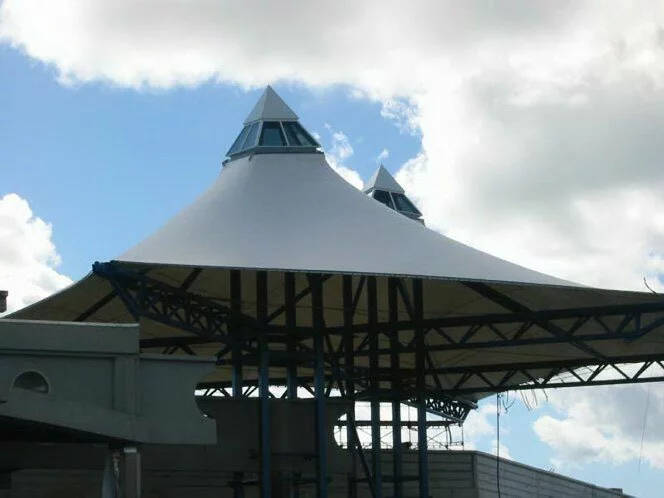 Depiction of some of what might be 23 pyramids on the roof of the Grantley Adams International Airport terminal
The Grantley Adams International Airport (GAIA) in Barbados underwent a remodeling and expansion project during the period 2000 - 2006. The US$100 million programme to revamp the Airport's current infrastructure was divided into a two phase project.
The phase 1 element saw an upgrading of the runways, taxiways, parking aprons, and approach lighting. The phase two element included adding a brand new arrivals terminal adjacent to the current building; moving arrivals from the current terminal, renovating the current terminal as a departures facility, and bringing the airport infrastructure current for the new millennium.
The current infrastructure for the "new millennium" is the concern of this article. The terminal buildings are engulf by pyramids on its roof. Some may be asking at this point why is the fact that pyramids are on the port of entry should be a concern? This is what will be discussed.
Power of Pyramids
According to Wikipedia Pyramid power refers to alleged supernatural or paranormal properties of the ancient Egyptian pyramids and objects of similar shape. With this power, model pyramids are said to preserve foods, sharpen or maintain the sharpness of razor blades, improve health, function "as a thought-form incubator," trigger sexual urges, and cause other dramatic effects.
The question then is whether they is some religious reasoning behind so many pyramids at the GAIA?