Japan Hit by an 8.9 Magnitude Earthquake
Massive earthquake has struck Japan with a magnitude which is amongst the world's most severe earthquake. Reports of 30-foot waves due to a massive tsunami.
Written by: gop | posted: Friday, Mar 11, 2011 - 12:00:00 AM EST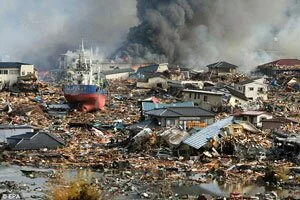 Massive Earthquake strikes Japan - This ship was diverted into the backyards of this "village" as plumes of smoke billows in the blackground
The earthquake which has struck Japan with magnitude 8.9 offshore quake was followed by at least 19 aftershocks, most of them of more than magnitude 6.0.
In Sendai, Japan, a tsunami has reached as far as 10km inland removing building ships boat and vehicles out of its path. Sendai's airport located 1km from the coast is now underwater, and many have been reported missing.
The Japanese government has ordered some two thousand residents near a nuclear power plant in Onahama city to move back at least 3 kilometers from the plant. The reactor's core remained hot even after a shutdown. The plant is 270 kilometers northeast of Tokyo.
The quake prompted at least 19 countries and numerous Pacific islands to issue tsunami warnings. A tsunami warning was issued for the entire Pacific, including areas as far away as South America, the entire U.S. West Coast, Canada and Alaska.
Deaths due to the quake and tsunami are being tallied.