Pastor Donnie McClurkin has graced the stage in Barbados for 2009
Written by: gop | posted: Sep 9, 2009 - 12:00:00 AM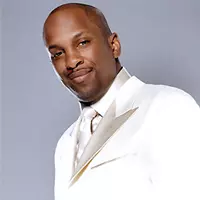 Reverend Donnie McClurkin
photo:Gospelcity.com
Pastor Donnie McClurkin was again on stage at Independence Square in the city of Bridgetown, Barbados in 2009 with a touching message of "Freedom". Under a bright moonlit sky.

Pastor and Gospel singer McClurkin brought a message of freedom for the Christian community here in Barbados, and by extension the world of Christianity as he believes many Christians although claiming to the world to be Christian are in fact in bondage.

This bondage is due to unrepentant sin which keeps the Christian wearing a mask ,and keeping up appearances.

Pastor McClurkin, I'm sure shocked the crowd who gathered in they thousands expecting to hear a wide selection of his powerful repertoire of music.

They were treated, however, to a power message which touched many hearts and consciences, as many realizing that they hearts weren't right with God gave themselves to God.

Donnie spoke of a church today which is too religious and is almost high minded against sin and by extension those outside of the church like the prostitutes, homosexuals, drug dealers, and drugs users who also need God in their lives, but is frown on by a church who sees the sin, and not the sinner.

Donnie reminded the church that God gave his only begotten Son to die so that  whosoever believeth in him be saved.

He believes those who are non-believers are caught in addictions such as gambling and drinking as they are trying to fill a void caused by a lack of not knowing God.

He believes theses non-believers prefer not to join the church as it is, because the very believers who approach them about God, and the wages of sin, are themselves involve in secret sin, and therefore non-believers seeing this, prefer to not join a church in this state.

Pastor McClurkin is now on his second trip to Barbados in association with Women of Excellence and Empowerment Ministries which was founded by Andrea Harris. He was on the shores of Barbados in 2008 (last visit 2008) where he preformed on stage in Independence Square.

The theme for the 2009 conference was "Break the Silence ~ Break the Shackles - Embrace Freedom".

Many Ministers of God were present last evening including Pastor Ferdinand Nicholls of The House of Freedom, Apostle David Durant of Restoration Ministries.