Prophet J.E. Knotts prophesy on mineral Wealth for Barbados
Written by: gop | posted: Nov 16, 2009 - 12:00:00 AM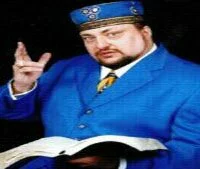 Prophet Knotts
Prophet Knotts is currently on the island of Barbados and he has been making prophecies concerning those in attendance at the evening meetings being held at The Olympic Complex at High Street, next to the Parliament buildings in Bridgetown.
Prophet Knotts who moves in the anointing of the prophetic, has made prophecies of Barbados being place on the map after receiving gold. This came in the form of Ryan Brathwaite (hurdler) winning a gold medal at the 110 meter hurdles at the 2009 World Championships in Athletics in Berlin three days later.
Prophet is the head of the Prophetical Word Church of Georgia, U.S.A.
Prophet Knotts on Sunday 15th November, 2009 made the Prophecy that Barbadians are about to become wealthy after the discovery of minerals, and oil in the soil of the island.
He also spoke to those in attendance accurately speaking to them of concerns within their lives, and said to some of them to expect a turn-around in situation within hours of him saying so.
Some members of the congregation also testified of pass prophecies Prophet Knotts had spoken to them, and of healings which have occurred in their lives.
Prophet Knotts asked those in attendance to do something which might appear strange to some. He asked persons to travel with their pillow cases for the Monday night session. This writer will be travelling with his :). Monday is expected to be miracle night.
Prophet J.E. Knotts will be in Barbados until Saturday 21st November. Evening services at 7:00pm are being held at the Olympic Complex, which houses The Deliverance Temple Church, with Bishop Rawlins. The Deliverance Temple Church is an extension of that in Trinidad under Bishop Reverend Dr. Michael Lewis at Besson Street, Port of Spain, and Point Fortin.
Prophet Knotts said that on leaving Barbados on Saturday morning he will be flying to Trinidad to attend church at Point Fortin.