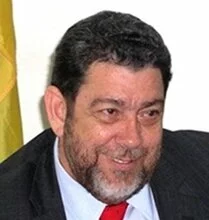 Prime Minister, Dr. Ralph Gonsalves has failed to win the popular vote on constitutional reform in St. Vincent and the Grenadines
KINGSTOWN, St. Vincent - Vincentians have voted for the refusal of a referendum proposed by the government, the ruling Unity Labour Party (ULP).
The referendum aimed at changing the country's constitution, needing a two-thirds (66.7%) majority vote. 55.64% of the votes cast were against, while 43.16% voted for it.
The constitutional change involved replacing the ceremonial head of the country who is current the Queen of England, Her Majesty Queen Elizabeth II, with a President selected by St. Vincent and the Grenadines parliament.
This referendum if it had succeeded, would have paved the way for the Caribbean territory becoming a republic.
what is ironic is that Her Majesty Queen Elizabeth II is currently in a neighbouring Caribbean territory attending a Commonwealth Heads of Government meeting hosted by Trinidad and Tobago which itself is a republic.
The question stands whether this time for the referendum was orchestrated by the ULP, considering her presence in the region.
Objection to the referendum was orchestrated by the main opposition party - New Democratic Party (NDP) lead by leader Arnhim Eustace. The NDP argued the referendum didn't make any changes to the vast amount of power the prime minister of SVG secures, and that a referendum should allow ordinary citizens to select the president.
Failure of any form of elections could be devastating to the ULP government who is expected to face the electorate again within a year for general elections.
The Bigger Picture.
The bigger picture here is that voters might have voted against the referendum because of the arguments of the opposition, but this might be a result of Caribbean nationals not being confident in their leaders.
This has spilled over to the leaders of these territories displaying that they are not confident in themselves, because of the lack in properly forming the Caribbean Court of Justice as the final court of appeal, but instead prefer to run to the Privy Council.
This might also be a result of mistrust as the territories are small, and everyone is almost everyone's neighbour.
The Queen of England, Her Majesty Queen Elizabeth II, therefore remains head of many territories.