Haiti Earthquake Response from the Caribbean Region
The Haitian people once again are faced with tragedy this time in the form of a 7.0 earthquake
Written by: gop | posted: Jan 13, 2010 - 12:00:00 AM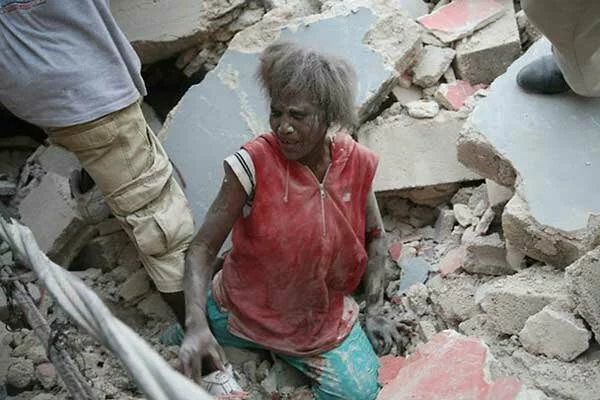 Haiti's devastating earthquake
Haiti experienced a 7.0 earthquake on the Richter magnitude scale, Tuesday 12th January, 2009. The quake has estimated to have killed and injured tens of thousands of persons.

Already, several countries and non-profits organizations have started to pull together aid efforts for Haiti, where the Associated Press estimates some 3 million people may be in need of help.

Here in the Caribbean, the CEO of the One Caribbean Media network, Mr. Vic Fernandes has put in place operation Help Haiti Now. This will be in the form of a telethon, and radiothon on Saturday 16th January, to raise hard cash for the rebuilding efforts that will be needed in this Caribbean territory.

The Help Haiti Now campaign is one the Haitian musician Wyclef Jean has been touting for sometime now, which might not be similar to that which Mr. Fernandez purposes.

Help Haiti Now is a non-profit 501c3 organization which provides food, water, medicine, and educational support to the poor in Haiti. Our missions currently assist two remote communities.(helphaitinow.org)
Facts about Haiti (from www.cia.gov):
Poorest country in the Western Hemisphere
(80% live in abject poverty)
Population: 8.1 million (U.S.=296 million)
Median Age: 18 years (U.S.=36 years)
Life Expectancy: 52 years (U.S.=77 years)
Infant Mortality: 73 deaths/1,000 live births (U.S.=6.5 deaths/1,000 live births)
Literacy/those over 15 who can read and write: 53% (U.S.=97%)
The earth quake in Haiti has been estimated to have killed thousands, and thousands more have been injured, government ministry buildings are leveled, schools, hospitals and hillside shanties, and even the presidential palace is damaged in Port-au-Prince.

Sobbing and dazed many people are wandering the streets of Port-au-Prince, as voices cry out from the rubble.

Many will be without drinking water, food, medicine and homes until the relieve effort kicks into gear.

Trivester urges those who can to give to this great relief effort.
Update: 18th January, 2010
The Caribbean Community's emergency aid mission to Haiti, comprising heads of government and leading technical officials, failed to secure permission Friday to land at that devastated country's airport, now under the control of the USA. (dominicanewsonline.com).