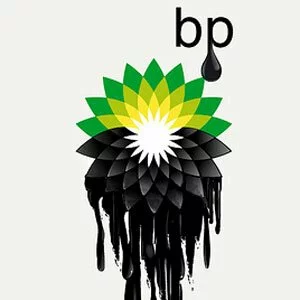 Greenpeace UK held a rebranding contest to generate fresh new redesigns of the BP logo. 500+ logo can be seen at Flickr
The Largest Oil Spill in History appears to be that of The British Petroleum (BP) oil spill in the Gulf of Mexico.
Oil spilling per day
Professor Steven Wereley, an associate professor of mechanical engineering at Purdue University and an expert on fluid flow research estimated the spill at 95,000 barrels or almost 4 million gallons per day of oil and methane. 95,000 barrels or almost 4 million gallons per day of oil and methane.
Professor Wereley testified in Capitol Hill in front of the House Energy and Commerce subcommittee on Wednesday that the total for the two leaks is around 95,000 barrels, with a 20% margin of error which places the leak at anywhere from 76,000 barrels per day to 114,000 barrels per day. (Examiner)
Previous oil spills
The largest Oil spill before April 20, 20110 was in Kuwait - 1991 - 520 million gallons followed in a distant second by Mexico - 1980 - 100 million gallons. (Environwonk)
British Petroleum also referred to simply as BP, or BP plc, is a British global energy company which is currently the third largest energy company, and the fourth largest company in the world.
In 2001 the company formally renamed itself as BP plc and adopted the tagline "Beyond Petroleum".
On April 20, 2010, a semi-submersible exploratory offshore drilling rig in the Gulf of Mexico exploded after a blowout and sank two days later, killing eleven people and causing a massive oil spill threatening the coast of Louisiana, Mississippi, Alabama, Texas, and Florida.
It is alleged that BP was running the well without a remote control shut-off switch (WSJ) used in two other major oil-producing nations, Brazil and Norway, as a last resort protection against underwater spills. The use of such devices is not mandated by U.S. regulators. If the company is truly going green, this will have to change.(wikipedia)
Transocean deep water drilling
Transocean, which is the world's largest offshore oil driller, with rigs used by oil companies around the globe. In 2000 Transocean acquired R&B Falcon in a deal valued at $17.7 billion. With the acquisition Transocean gained control of what at the time was the world's largest offshore operation. Among R&B Falcon's assets was the Deepwater Horizon.
Transocean Ltd. in September, 2009 announced that its ultra-deepwater semisubmersible rig Deepwater Horizon recently drilled the deepest oil and gas well ever while working for BP and its co-owners on the Tiber well in the U.S. Gulf of Mexico. Working with BP, the Transocean crews on the Deepwater Horizon drilled the well to 35,050 vertical depth and 35,055 feet measured depth (MD), or more than six miles, while operating in 4,130 feet of
water. (dynamic positioning news)
Total cost of the BP Gulf of Mexico oil spill
Initially the company was spending around $18m per day, and most recently $35m per day, and many are predicting the final sum for BP could be around $12bn. The oil continues to spill as this article is written, and it is almost impossible to guess on the total cost to BP.