Eggs Recalled after Salmonella outbreak
FDA officials in the United States have recalled over half a billion eggs after over a thousand people were infected by Salmonella poisoning
Written by: gop | posted: Wednesday, Aug 25, 2010 - 12:00:00 AM EST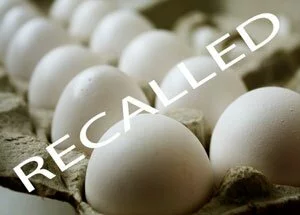 To date over 500 million eggs have been recalled in the US, yet it is unsure of the cause of the contamination
Salmonella outbreak in the United States has incurred over a half billion egg recall. The massive egg recall has prompted customers to identify eggs that might be contaminated with salmonella.
This the largest egg recall ever, involving nearly 550 million eggs from two producers, after a nationwide outbreak of thousands of cases of salmonella was traced to eggs contaminated with the bacteria. Over a thousand persons have been diagnosed with food poisoning as a result.
How could Salmonella poisoning be prevented?
The Food and Drug Administration (FDA) experts have said that regular testing for contamination, cleanliness standards for henhouses and refrigeration are requirements needed to prevent such situations.
The FDA has estimated that it would cost farmers about 14 cents a bird to vaccinate, or about $31 million to cover hens at all the large US farms. This is in light of farmers in Britain vaccinating hens in order to prevent Salmonella poisoning in eggs.
Farms Affected
Iowa's Hillandale Farms said Friday it was recalling more than 170 million eggs after laboratory tests confirmed salmonella. The company did not say if its action was connected to the recall by Wright County Egg, another Iowa farm that recalled 380 million eggs earlier this week.(msnbc)
The eggs recalled Friday were distributed under the names Hillandale Farms, Sunny Farms, Sunny Meadow, Wholesome Farms and West Creek. The recall applies to eggs sold between April and August.
The Origins of the Salmonella Outbreak
FDA Commissioner said on the ABC's, Good Morning America, that it was unsure of the origins of the Salmonella infection in eggs."We don't know exactly how the contamination got into the chicken population, and we're not yet fully sure the extent of the recall that will be necessary to protect consumers"
Symptoms of Salmonella infection
After an incubation period of some 6-48 hours, infection causes nausea and vomiting and progress to abdominal pain and diarrhoea, which might be mild or severe, with or without blood. Persons should always seek the advice of a medical doctor in such circumstances.