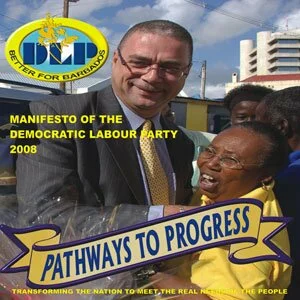 The DLP manifesto of 2008
The Democratic Labour Party (DLP) during the 2008 general elections in Barbados, secured twenty of thirty seats. In the campaign it was disclosed that the ruling Barbados Labour Party had squandered the tax payers money, and it was promised, if elected, the DLP would implement Integrity Legislation immediately.
The proposal of integrity legislation was made in the party's manifesto of 2008 general elections, which is entitled Pathways To Progress. The manifesto at section twenty-two under the banner Good Governance states that the party would immediately introduce integrity legislation which would require:
• a declaration of assets by public officials,
• a Code of Conduct for Ministers,
• a new Freedom of Information law,
• amendments to the Defamation laws and
• new constitutional provisions to rationalise the powers of the Prime Minister.
It further said that in this way the DLP intended upon giving power back to the people of Barbados, many took this hook, line, and sinker.
The Barbados Advocate reported in August of 2008 that "THE drafting of integrity legislation and the Freedom of Information (FOI) Act 2008 were expected to be concluded in less than two months and soon after brought before Parliament."
The newspaper had quoted Chairman of the Advisory Board on Governance, Senator Orlando Marville as saying drafting of integrity legislation was at an advanced stage, and though its completion would probably take a few months, he stressed, "I think the present Government is serious about this transparency."
Senator Marville had said there were several models to chose from concern integrity legislation, but one which excluded judges and the Governor General was selected, and included just everyone else in public life was selected.
This form of integrity legislation would implement strict fines of up to a million dollars for lying about assets, as well as a prison sentence of up to five years.
Barbados is about to hit a major oil find, and with no accountability by our politicians, God help us all, as corruption will go through the roof as persons will seek to enrich themselves, family, and friends. The wrong persons will also be attracted to politics and the coffers of the government. The persons who are more suited for the job will shy away because of the "corrupt" atmosphere associated with politics in Barbados.
Will the DLP government live up to its promises, or will its politicians come knocking at the windows, and doors of those it has made certain promises to in order to ask for another vote in 2013, or before, on empty promises?