Shanique Myrie and Jamaica "Not Backing Down"
Having reported to the Jamaican Observer, and later the Jamaican government an allege case of "improper treatment". The situation has progressed into a position where that country's Foreign Minister, Dr. Kenneth Baugh, has been invited to Barbados, to further discuss the issue.
Written by: gop | posted: Tuesday, Mar 29, 2011 - 12:00:00 AM EST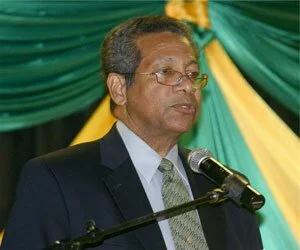 Dr. Kenneth Baugh - Foreign Minister and Deputy Prime Minister of Jamaica. photo: jamaica.com
Shanique Myrie and Jamaica will not be backing down. This was carried in the Jamaica Observer in an article in today's website edition entitled "JA not backing down in 'finger-rape' case".
In the article, Dr. Kenneth Lee O'Neil Baugh, who is the foreign minister and Deputy Prime Minister of Jamaica, is reported to have said while speaking in that country's parliament today, that following a meeting between his ministry, Myrie, and her lawyer, he is of the opinion that her account warrants a full investigation.
A delegation, including officials from the Ministry of National Security/Passport Immigration & Citizenship Agency (PICA), is scheduled to fly to Barbados tomorrow to investigate Myrie's allegation that she was subjected to verbal abuse and two cavity searches by a Barbadian immigration officer. (Jamaican Observer)
Also invited to the discussions will be Trinidad-based, Her Excellency Sharon Saunders, High Commissioner for Jamaica appointed to Trinidad and Tobago
High Commissioner Saunders held the position of Deputy High Commissioner to the United Kingdom prior to her appointment in Trinidad and Tobago, and has served for thirty (30) years in the Jamaican foreign service.
Latest on Shanique Myrie - Updated 30/03/11
There have been further developments in this story as Shanique Myrie's Lawyer was contacted by the Nation newspaper. Myrie's attorney, Anthony Hylton, has said, "We are aware that the police are who did it".
Attorney Anthony Hylton intends to haul the Barbados government before the International Court of Human Rights. (nationnews.com)