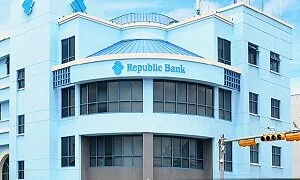 Republic Bank Barbados - Independence Square
Bridgetown, Barbados - In October of 2013, the Barbados NationNews carried an article entitled "ATMs robbed". It stated that at least three automatic teller machines (ATMs) had been compromised and a large undisclosed sum of money stolen at Grantley Adams International Airport and in Wildey, St Michael.
According to the October 11, 2013 WEEKEND NATION two Bulgarians were arrested for the crime and were part of an organized, eastern bloc crime group who travel the world committing ATM fraud. $500 000 was apparently stolen and police in Barbados was seeking the assistance of Interpol.
In May of 2013, the Nation newspaper also carried an article on a seminar where marketing and deployment self-service manager at NCR, Ricardo Saenz, told the Barbados Business Authority (BBA) that global trends suggested that fraud was on the increase, especially in tourist destinations.
The expert went on to say scammers were known to use creative ways of stealing cardholder information, for example by installing cameras in ATMs or by a method known as skimming.
"I have been to some of the other islands and I know they are working on it but I would insist that more effort is taken to really be on the lookout because lately fraud has been moving to tourist locations and the Caribbean is an important tourist location," he said.
Before this information broke in the local press in December of 2012 I noticed some strange activity on my savings account with the Republic Bank of Barbados which I immediately reported to the bank, but was told initial investigations showed a card with the credentials of the one I had from the bank was used to make a withdrawal of $1000.00 BDS.
I reported the matter to the bank manager at its Independence Square, who did investigate, but couldn't find any security coverage at the point in time the transaction was done because they had no security video footage since this function of the bank, was being outsourced to a private company.
I reported the matter to the Fraud Squad of the Barbados Police Force, who interviewed the bank.
With the matter pending I wrote the bank manager again as a reminder, but again to no avail. After the news broke in the local press that ATMs in Barbados had been compromised and that skimming was possibly involved, I wrote the CEO of the Republic Bank, Mr. Ian De Souza, Dip (Mgmt),BSc. (Econ), MBA, CMA.
I finally got a response from the bank, but only via a letter signed by Ms. Sasha Shillingford, Corporate Secretary/General Counsel. The letter was also copied to Mr. Ian De Souza - Managing Director and CEO, Mrs. Sharon Zephirin - Senior Manager, Retail Services and Mr. Steven Jordan - Manager, Retail Services. The letter to me read in part as follows:
We thank you for and acknowledge receipt of your letter dated March 8, 2013, received by us on October 9, 2013, addressed to the CEO and Managing Director of the Bank with respect to the captioned matter.
We confirm that as indicated in your numerous conversations with Mr. Steven Jordan, who was at the time, Manager, Retail Services, Independence Square, the matter was fully investigated, and we have found no evidence to suggest that the transaction in question was not a valid one carried out by the account holder. As a result, we regret to inform you that, without more, the Bank in unable to honour your claim.
We apologise for the delay in bringing closure to this matter.
In light of what has transpired in the country and all that The Barbados Bankers Association has said, a letter was signed stating that further evidence is needed bearing in mind that the bank allowed money to be taken from its teller machine without having security cameras in place. One wonders if the bank cares about its valued customers.
On May 20, 2012, according to the Nation newspaper, during an emergency meeting involving all banking institutions it was disclosed that over the past few weeks prior to the meeting, the accounts of 17 people had been tampered with and monies illegally withdrawn from several automatic teller machines (ATMs).
"We have confirmed that there is a skimming exercise being uncovered in Barbados which is manifested by withdrawals from cardholder accounts using manufactured plastic duly encoded with cardholder information," stated an email, which provided details of the outcome of Thursday's emergency meeting.