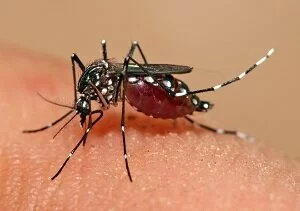 Aedes aegypti mosquito
Bridgetown, Barbados - Minister of Health, John Boyce, today confirmed that Barbados has recorded its first case of the Chikungunya illness. The positive sample was among six other samples which were sent to the Caribbean Public Health Agency (CARPHA) in Trinidad.
The illness was reportedly diagnosed in a visitor to the island who has since returned to their homeland. Barbadians have, however, been warned by Acting Chief Medical Officer Dr Elizabeth Ferdinand to visit their medical doctor if they develop viral symptoms such as fever, headache, nausea, vomiting, and especially joint pains.
Symptoms usually begin 3-7 days after being bitten by an infected Aedes aegypti and Aedes albopictus mosquitoes. These mosquitoes are also notoriously known for transmitting a sister illness of Chikungunya, called Dengue. Most persons usually recover after a week of sever muscle and joint pains.
Preventative measures include creating an environment which isn't conducive to mosquito breeding and continued growth and reproduction.
Classical Symptoms of Chikungunya Virus (ChikV) - compliments, The Ohio Department of Health (ODH)
• Sudden onset of high fever (>39°C)
• Severe polyarthralgias mainly involving the distal joints of the extremities
• Headache
• Myalgias
• Back pain
• Rash (in about 50% of the cases)
Other non-specific symptoms which may occur include headache, diffuse back pain, myalgias, nausea (feeling of wanting to vomit), vomiting, polyarthritis, rash, and conjunctivitis during the acute stage.
Stages of the Illness
The disease can be broken down into three stages depending on the length of time symptoms are evident. These stages include an acute, subacute and a chronic stage.
The acute stage usually last 3 - 10 days, the sub-acute stage begins about 10 days after the onset of the illness and usually lasting two to three months and involves a relapse of symptoms, with some patients complaining of various rheumatic symptoms, including distal polyarthritis, exacerbation of pain in previously injured joints and bones, and subacute hypertrophic tenosynovitis in wrists and ankles.
Chronic disease is defined by symptoms that persist for more than three months. Risk factors for non-recovery are older age (>45 years), pre-existing joint disorders, and more severe acute disease. Mortality is rare with CHIKV infection and has been reported predominantly in the elderly and those who are immunosuppressed.
Reservoir
Humans serve as the primary Chikungunya reservoir during epidemic periods. During inter-epidemic periods, several vertebrates have been implicated as potential reservoirs, including non-human primates, rodents, birds, and some small mammals.
Vector
There are two main vectors of Chikungunya: Aedes aegypti and Aedes albopictus. Both mosquito species are widely distributed throughout the tropics with Ae. Albopictus also present at more temperate latitudes. Given the vectors' distribution throughout the Americas, the entire region is susceptible to the virus' invasion and spread.
Period of Communicability
Chikungunya is communicable during the acute illness and perhaps for weeks or months afterwards, as long as viremia is present.
Susceptibility
All individuals not previously infected with Chikungunya (naïve individuals) are at risk of acquiring infection and developing disease. CHIKV infection is thought to confer life-long immunity.
CHIKV should be differentiated from dengue, due to the potential for worse outcomes (including death) from dengue. The two diseases can occur together in the same patient.