Barbadian Kemar Saffrey wins The Commonwealth youth award for excellence in development and meets the Queen
Four young development workers from the Commonwealth awarded for they hard work and dedication to others, following Commonwealth Day on 11 March
By: Jeff Gill - Friday, Mar 15, 2013 - 08:15:57 AM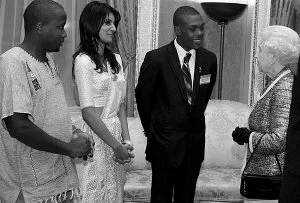 Photo: Barbados Advocate
Kemar Saffrey from Barbados is one of the winners of the Commonwealth youth award for excellence in development. Kemar serves as the Chairman and President of The Barbados Vagrants and Homeless Society (BVHS), where he provides access to food, clothing, shelter and rehabilitation for those in need.
Four young development workers from Australia, Barbados, Kenya and Sri Lanka, were today awarded £14,000 between them for their projects.
The awards follow Commonwealth Day on 11 March which was themed "Opportunity through Enterprise", and is celebrated by the 54 countires of the Commonwealth.
The other awardees were Evans Wadongo (kenya), Anoka Primrose Abeyrathne (Sri Lanka), Julian O´Shea (Australia).
Evans Wadongo, won both the pan-Commonwealth and Africa region Commonwealth Youth Award, received a £5,000 grant for the charity he founded, 'Use solar, save lives'.
Eco-entrepreneur Anoka Primrose Abeyrathne from Sri Lanka designed a programme that provides young people with skills to increase their employability, including training in how to write a resume, eco-tourism and computing.
Julian O´Shea, Director of the Engineers Without Borders Institute, delivers education and technology projects across South Asia and within Aboriginal communities in Australia.
The awardees had the priviledge of meeting her Majesty Queen Elizabeth II during a special Commonwealth Day evening reception, held at the Commonwealth Secretariat.