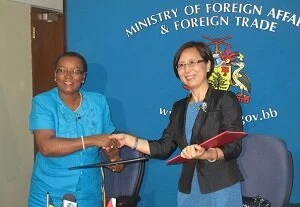 Foreign Affairs Minister, Senator Maxine McClean (left) and Ambassador, Wang Ke (right) shake hands following the signing of a Mutual Visa Abolition Agreement between Barbados and China.
Barbados has signed a mutual Visa waiver agreement with China, through Minister of Foreign Affairs and Foreign Trade, Senator Maxine McClean, and China's Ambassador Wang Ke last Tuesday, May 27th during a signing ceremony.
"I know that Ambassador Wang Ke, has lobbied for a more expeditious system of processing visas to better able Chinese citizens to travel on ordinary passports. I concur that it is in Barbados' interest to ensure that this happens, all the more so, as there is a boom in leisure travel by Chinese, with some 100 million tourists travelling abroad annually and in fact a mere 0.25 per cent or 250 000 persons within that market would revitalise and transform the tourism landscape", stated the minister.
The Visa waiver agreement for starters, however, will aid those Holders of Diplomatic and Service (Official) Passports coming from China.
Ambassador Wang expressed in her remarks that the Agreement was a substantial step forward in facilitating the exchange of visits of the two peoples, would create more opportunities of interaction and cooperation, and enhance the bilateral relations between China and Barbados (China Embassy).
She explained that the holders of these passports would be exempted from visa requirements for entry or transit through the other country. For example, in China, it will allow officials from government and business people from state-owned companies to enter Barbados easier.
In a statement presented during the ceremony from Barbados' Ambassador to China, Dr. Chelston Brathwaite he said that since the establishment of diplomatic relations with China in 1974, the relationship continued to be strengthened through the increasing number of commercial and business activities and the visits of high-level dignitaries to Barbados from China and from China to Barbados.
Barbados will now follow The Bahamas, who in 2013, also signed such an agreement with China through its Foreign Affairs and Immigration Minister Fred Mitchell, and China's Vice Foreign Minister, Xie Hangsheng.
"Through the signing of this agreement, our tourism industry, which is the cornerstone of this nation's economy, will be strengthened. With this agreement, The Bahamas will join North America, Europe and Australia as one of the top destinations for over 70 million Chinese tourists who frequently travel internationally.
"Additionally, Bahamians who travel frequently to China for business and tourism opportunities will now be more easily facilitated," Mitchell said.